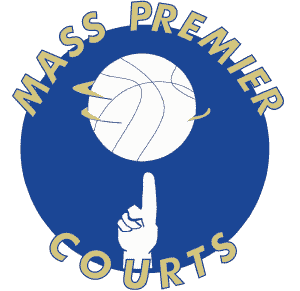 Our Facility:
A Better Game Experience for the Player and the Spectator..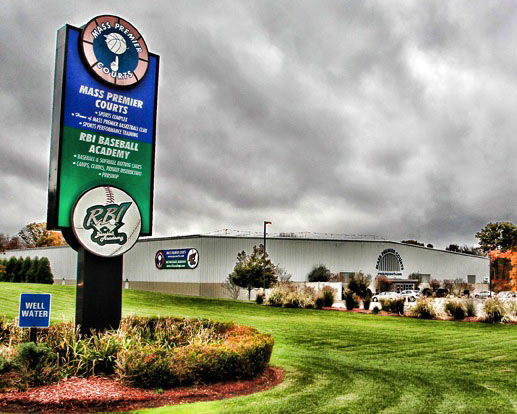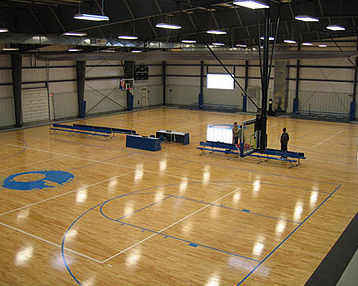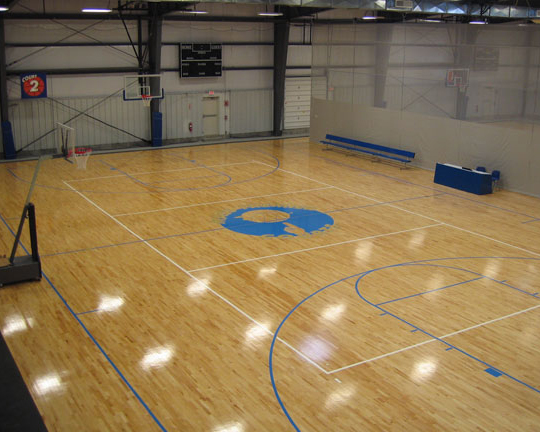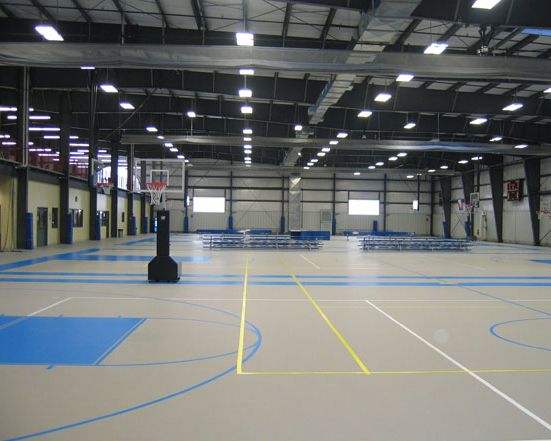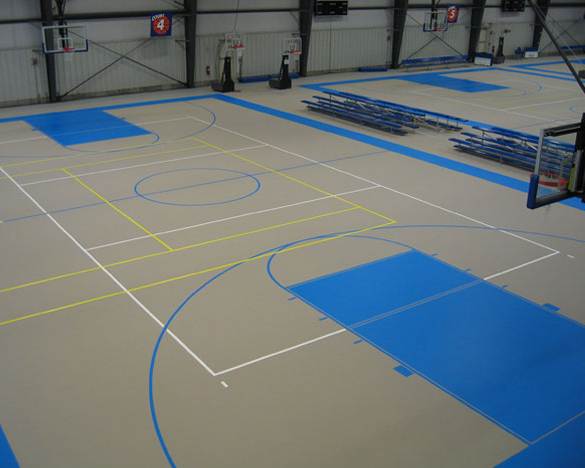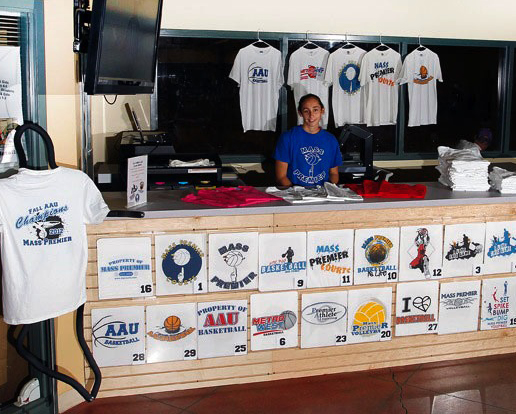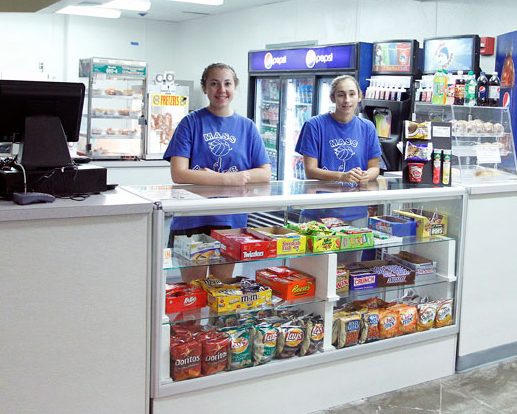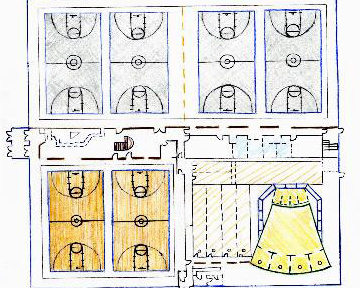 Top Of The Line Basketball Courts
Mass Premier Courts offers six regulation size basketball courts. Two of the courts are made of high-quality maple wood, and are similar to the flooring used at the practice facility of the Boston Celtics. The remaining four courts are made of a 14mm "pad and pour" high-end synthetic surface. This is the best synthetic court available on the market providing the most comfortable experience for the players. It is used at the Boston College field house, and the new sports facility at Bridgewater State College. Every basketball player has played on wood and synthetic courts, but none match the quality of Mass Premier's.
State of The Art Hoops
The hoops are made by Porter Athletics and are their newest model. Each backboard is glass, and each rim features 180 degrees of breakaway capability. T he rims at most facilities are stiff, and can only break away at the front. As a result, not as many shots fall and the paths of the rebounds are errant. The accuracy and simplicity of this adjustable goal make it superior in design and performance for the highest levels of both NCAA and FIBA competition requirements.
Superior Lighting
Gone are the days of poorly lit courts and dark gymnasiums that make both the player and spectator feel as if they are in a dungeon. Mass Premier Courts' lighting system operates at twice the lumins (the lighting level) at most high schools located in New England. The lighting system at Mass Premier Courts is better than that of most college field houses, and is just shy of the lighting systems of Division 1 colleges and uni- versities, in terms of lumins.
A Massive Concession Area
Spectators and players alike spend far too much time sitting on stiff stools eating stale popcorn while wait- ing for the next game. We have made sure that will not be the case at Mass Premier Courts. Treat yourself to the enormous 4,000 square foot concession area that we have to offer. The concession stand, which offers various foods from an expanded menu, is located in what is the largest sitting area of any indoor basketball facility in New England. Comfort was the mindset in designing the concession area, and to reach that goal the area is fit with couches and televisions.
Unparalleled Heating/Air Conditioning/ Ventilation
Another accommodating feature of Mass Premier Courts is its heating and air conditioning system. This allows year round practice and gaming capability, and helps shield players and spectators from the cold of winter and the humidity of the summer. The temperature can be regulated by the staff, which ensures a comfortable atmosphere for the both the players and spectators. No longer will players be forced to play in uncomfortable temperatures. Mass Premier's top of the line ventilation system makes it feel as if you are at a first class office building, not a warehouse.
A Drawing Of The Floor Plan
This is an exact drawing of the inside of Mass Premier Courts. The grayish courts are the 14mm "pad and pour" synthetic surface, and the brown courts are the high end maple wood flooring. Each court will be divided by a curtain, which will give the game a more peaceful, rather than chaotic feeling. The bathrooms, located in the middle of the drawing, are near the 4,000 square foot concession area. Above the concession area, and located in the absolute middle of the facility is a 14 foot high catwalk that offers ample space to get a clearer, birdseye view of the action.
Staff...
Michael Vaughan
Operational Manager
Email mvaughan@mpcourts.com
Main line: 508.543.2626 Ext 1
Direct call or text: 508.718.2367
Head Boys basketball coach at Mansfield High School. A former assistant at both Franklin & Mansfield H.S. He was a standout player at Mansfield High School. As the Head Coach of Three AAU teams, his squads have qualified & participated at regional & national levels. The Framingham State graduate will oversee all activities offered by Mass Premier Courts.
Kyle Valenzuela

Tournament Director
Email: kylev@mpcourts.com
Main Line: 508.543.2626 Ext 2
Direct call or text: 508.718.2994
Head Boys basketball coach at Highlander Charter School. A former collegiate basketball player at Roger Williams University that founded the Bristol/Warren Wolf-Pack, a RIYBA affiliated program. Last season, as a head coach at Lasalle Academy, Kyle won his first State Title at the freshman level. Kyle oversees all basketball related activities as the Director of Basketball Operations at Mass Premier Courts.
Gregory Marcotte
Developer & CEO
A business executive and entrepreneur and is the driving force behind the new facility. His corporate career has found success based upon his philosophy of customer satisfaction. He & his family are residents of Mansfield.
Open Gym Time...
Mass Premier Courts offers open gym time to anyone interested in playing basketball. The fee is $8. It is recommended that people interested in utilizing our open gym call ahead because open gym time is only offered when our courts are not already booked. If someone comes to Mass Premier Courts to use our open gym and no courts are available they will not be able to play.
Booking a Court...
If you would like to book a court please contact Michael Vaughan: phone: 508-543-2626 x 15 email: mvaughan@mpcourts.com


A verification code was sent to the email address you provided. Enter the code then select your new password.
Code (from email)

New Password

Verify Password

Please select a new permanent password.
New Password

Verify Password

Last Name

Street Address

Town

Name
Address
Town
Email Address
Please review the matching accounts. If one belongs to your family, please use it rather than create a new account. This greatly helps us manage players in our programs.
First Name

Last Name

Address

Primary Phone

Secondary Phone

Email Address

Password

Verify Email

Verify Password

You may access this account with a 2nd email address and password. This is optional.
Alternate Email

Password

Verify Alternate

Verify Password

One or more players are assigned to an AAU team and the team fee payment is due.
| | | | | |
| --- | --- | --- | --- | --- |
| | | Add all players to the cart, then click View Cart. | | |
.